Ryall Coat of Arms
Ryall - my branch of a family tree
Some limited ancestral information

It seems that some folk delve the Web hoping to find their roots. I get sporadic Emails mainly from the previous British colonies asking if I am perhaps a relative. My brother and I are sons, of an only son, of an only son - and all my relatives are depicted on the cartoon below. I am not really seeking distant 5th cousins myself and the stuff below is all I know. I hope that rather than join in with another Email, the following might satisfy any the curiousity of any intrepid Ryalls who have got thus far.
William Ryall of Grimsby, Lincolnshire married Ann Temple of Rotherham, Yorks some time toward the end of the 19th century. They had a son, Herman in 1898. William had been born in 1874 in the village of Thorne Crowle, near Doncaster, and just across the Lincolnshire border and was remembered as "a bit of a rogue". His own father may have been called John - but it's speculative (qv below).

Herman Ryall (1898-1951) is only vaguely remembered. He was a council official of some sort (perhaps town clerk) at Cleethorpes Lincs, and a Freemason. He died from a heart condition.

Herman was an only son. He and Christabel tragically lost two other children in infancy. Only John survived.

Christabel Cooke (1905-1967) was a clever go-getting lady. In the 30s she took flying lessons and joined the Air Corps. She played bridge for Lincolnshire.

Christabel's father was the station master at Lincoln - a prestigious post in those days.

John Ryall (1929-1987) was another only son.

He became a a Coal Board scholar, turning down a Cambridge science place to read mining at Birmingham. In '56 he was the youngest mine manager ever in UK. He was once nominated for a George medal after dealing with a workplace accident.

He worked in mine machinery manufacture in Darlington, at Newcasle University and in his final years as a consultant with the World Bank. Smoking led to another tragically early death.

John had four children. His widow prefers not to be listed here




Christopher John Ryall (1953-) was born near Wakefield, and brought up in the then pit villages outside Barnsley, moving to Darlington Country Durham at age 7. He is now a consultant in Diagostic Radiology at Royal Liverpool University NHS Trust. He likes jazz and folk music and dance, wine tasting, and travel

Chris has 3 children




John, his wife, Chris and 2 siblings lived in this small West Riding manor (a Coal Board property) 1952-5

Chris's brother and two sisters were born in Barnsley. They also each have 3 children. John Ryall therefore has 12 grandchilden. Three males and 3 females bear the family name into the 21st century.




Dolly May Ryall (1984-) was born in Newcastle upon Tyne. She is voice coach (MA phonology) workingwithvoice.com Dolly is a a skilled singer popular at festivals doing solo gigs, and fronting a series of groups. You also find her at dollymay.com





My other daughter (1986-) was also born in Newcastle. She had an international modelling career in her teens, and then got a good degree in Japanese and Politics from SOAS. After NGO work with children in Palestine, she is finally putting down roots in Sydney, Australia as business developer and factotum for a Japanese CEO (yes, that's a Koala)





Fred Ryall (1990-) was born in Birkenhead Wirral, and is a professional armourer offering sculpture, engineering, smithing and "tailoring in metal" skills. He reproduces museum pieces of armour, makes bespoke fantasy work for clients all over the world. Fred trades as The Ryall Armouries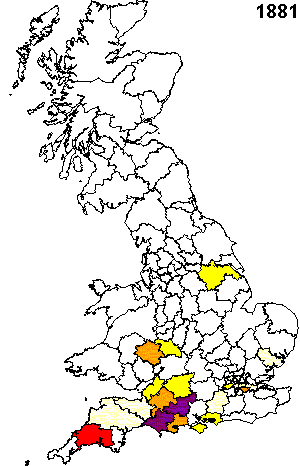 mouse over the map to see the name spread
Chris's immediate family was brought up in Yorkshire (God's County), in Darlington and Newcastle upon Tyne. The siblings now diaspora across northern England and he lives in Birkenhead, Wirral near Liverpool. Ryall remains a rare surname in UK - 0.036% (360 per million). Although there are a group of Ryalls in Merseyside none of these is thought a relative. and according to the recent online census data the name was rare here too.
Nevertheless my ex-wife bought an old piano from a junk shop when we came here. It was her style to buy it for it's 'looks' (the tone was pretty awful). Opening the lid we saw the maker's plate. "Ryall of Hoylake" (on North Wirral coast). What a small world! But it wouldn't stay in tune and had to be sold. Kids boogied tunefully on Grandad's old piano, and now all play music or sing.
There are villages called "Ryall" in the Welsh borders (just south of Upton upon Severn) and another in Dorset, near Lyme Regis. You can see the affects of these as name frequnecies on the 1881 map. Herman's father lived in the Lincolnshire/East Yorkshire pool, on the NW coast just below the Humber estuary.
A nice account of the Severn valley family is available online.
I don't know why, there were a lot of us in East Cornwall, on England's SW peninsula. There is also a village "Ryal" in Northumberland. And Welsh town of Rhyll. Probably neither is a relation.
Mouse over the map to see the name spread 110 years later.
The name Ryall is thought to have come across with the Normans in 1066. The Picardie town of Riosel (near St Quentin) is well placed to have been the seat of a Norman (or more likely mercenary) knight: both the Conquest Knights list at Battle Abbey (Kent), and a church plaque at Dives sur Mer (Normandy) include "Vauquelin de Rosai". Don't place much store on the missing letter. Surnames weren't really in use an (de) town for a signeur, or profession for a serf was common. Also no one could spell: Rosai may be a mis-copy and the name is sometimes written "Roysel" in Picardy. The family is said (I can find no evidence) to have been given a bailiwick in Kent to govern. It is not known how the name spread from there.

my niece did this cartoon during a clan holiday
Here's where it all happened
Note how close Crowle is to the Yorkshire border, and that the coast was Yorkshire's!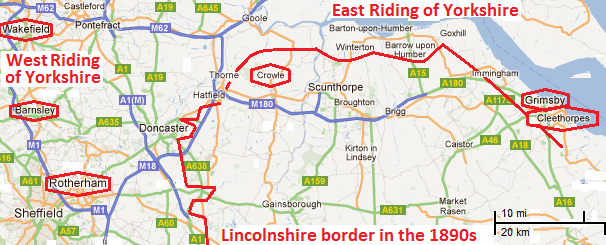 Top countries for the Ryall name are Ireland=59/million, Australia=43/m, UK=33/m, Canada=29/m and New Zealand 28/m.
Ryall "hot spots" exist in New Zealand: (Mackenzie district=348/m, Grey district=281/m, Queenstown-lakes=187/m).
Irish population is more diffuse, peaking the SouthWest at 170/m. Newfoundland/Labrador (Canada) manages 154/m
All the statisical data is from UCL's excellent demographic site (public domain) reproduced here with thanks.

"" Style sheet control has failed. Pages on this site should still be readable, but layout may be spoiled. Your browser may be out of date, or style sheets disabled !!
| | |
| --- | --- |
| | www.chrisryall.net/ryall.tree © Chris Ryall 1987-2012 |