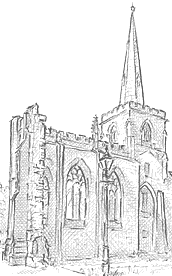 Birkenhead - Victorian Boom town
Settlement here goes back many centuries, and Birkenhead Priory was established on the West bank of the Mersey c1150 AD. In 1330 Edward III granted the monks permission to provide a ferry across the river. The estuary banks were marshy, and the other inhabitants lived on the overlooking sandstone hill, in the ancient villages of Oxton and Claughton.
In this period Wirral was neither a nice nor popular place - swampy and infamous for its bandits! By 1800 AD the Birkenhead population was still only 110, and the church a ruin after its dissolution by Henry VIII. Incidentally the mediæval priory has recently been nicely restored and is now used for concerts. There is also a small museum at the site.
Across the Mersey, early 19th century Liverpool was had become of the World's most prosperous cities. (To its shame partly financed by the slave trade). Population and development money spilled across the River Mersey and Victorian Birkenhead sprang up at incredible speed (population = 40,000 in 1845).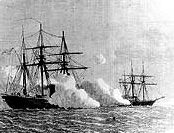 My own theory is that an influx of refugees from the Irish potato famine was a not inconsiderable stimulus.
The Cammell Laird yard made fine ships here for many years. Perhaps its most famous vessel was the Confederate raider Alabama. She was purchased by the Confederacy during the American civil war, and had a short but violent career sinking merchantmen of the Union States. The raider was finally sunk by the Union battleship Kearsarge in the Bay of Biscay in 1864. The link with Merseyside is a curious one, but Liverpool had its reasons to support the Confederate side.
John Laird was a major figure in the town (later its first mayor) and was involved in the draining of the marshland for development purposes. The grand scheme including establishment of the World's first municipal park. His statue stands in Hamilton square, one of the finer 19th century developments in Britain. Laird was interred in the Priory grounds, next to his yard.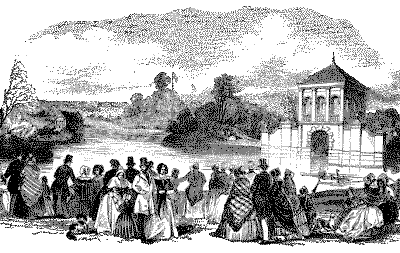 Birkenhead Park was laid out over the period 1843-47 under architect Joseph Paxton. It contains two artificial lakes, cricket and football pitches and driveways. We have been rated as one of the the ten best historic parks in Britain.
Yankee Frederick Law Olmsted was here observing our 226 acre design, and went on to lay out a near identical public space as New York's Central Park. Paxton went on to help design Britain's Houses of Parliament, and his own most famous work - London's Crystal Palace built for the 1851 Great Exibition.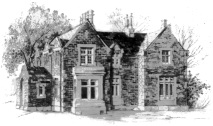 chrisryall.net Road (ie here) was a speculative development laid out within the new parkland. The park houses houses were designed by Paxton's team and are mostly in the local Storeton sandstone. Many, including 1-5 Cavendish Road (1852) are now UK "Grade II" listed" Heritage buildings.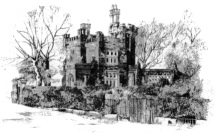 William Hesketh (later Lord) Lever established his business here in 1860, making soaps and detergents. The industry took advantage of north-west coal and electricity to make soda from the nearby Cheshire salt reserves. Imports of vegetable fats through the Mersey ports provided the other ingrediants.
The most famous brand was Port Sunlight soap - named for Lever's Port Sunlight model village, in which he housed of his workers. The family firm eventually merged with the Dutch Uni to become the multinational Unilever. They are still here. The village has become a fashionable place to live, as well as a significant tourist attraction. Lever became very rich, and was a Liberal peer.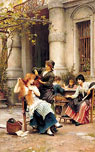 The art treasures collected made by Lady Lever are housed in her museum, built withing in the famous Port Sunlight Village. The museum has superb collection of British pre-Raphaelite paintings (Birminhham perhaps better?) as well as oriental and other items. Birkenhead also has a fine Williamson Gallery municipal collection. Another good site for Pre-Raphaelite Art is Bob Speels pages.
Over recent years the Borough have been busy renewing Birkenhead centre, which thanks to EU grants now boasts a "Europa Boulevard" with new Metro station and a fine swimming pool. The town's docks have been considerably improved, and now there blossom new commercial developments in the "5 bridges" area. Our docks regularly host the splendid "Tall Ships" regatta when it visits North-west England. There is a working trams scheme, based down in Pacific Road (but sadly going nowhere else)! - though it's a decent concert venue.
---

"" Style sheet control has failed. Pages on this site should still be readable, but layout may be spoiled. Your browser may be out of date, or style sheets disabled !!
| | |
| --- | --- |
| | www.chrisryall.net/birkenhead © Chris Ryall 1987-2008 |